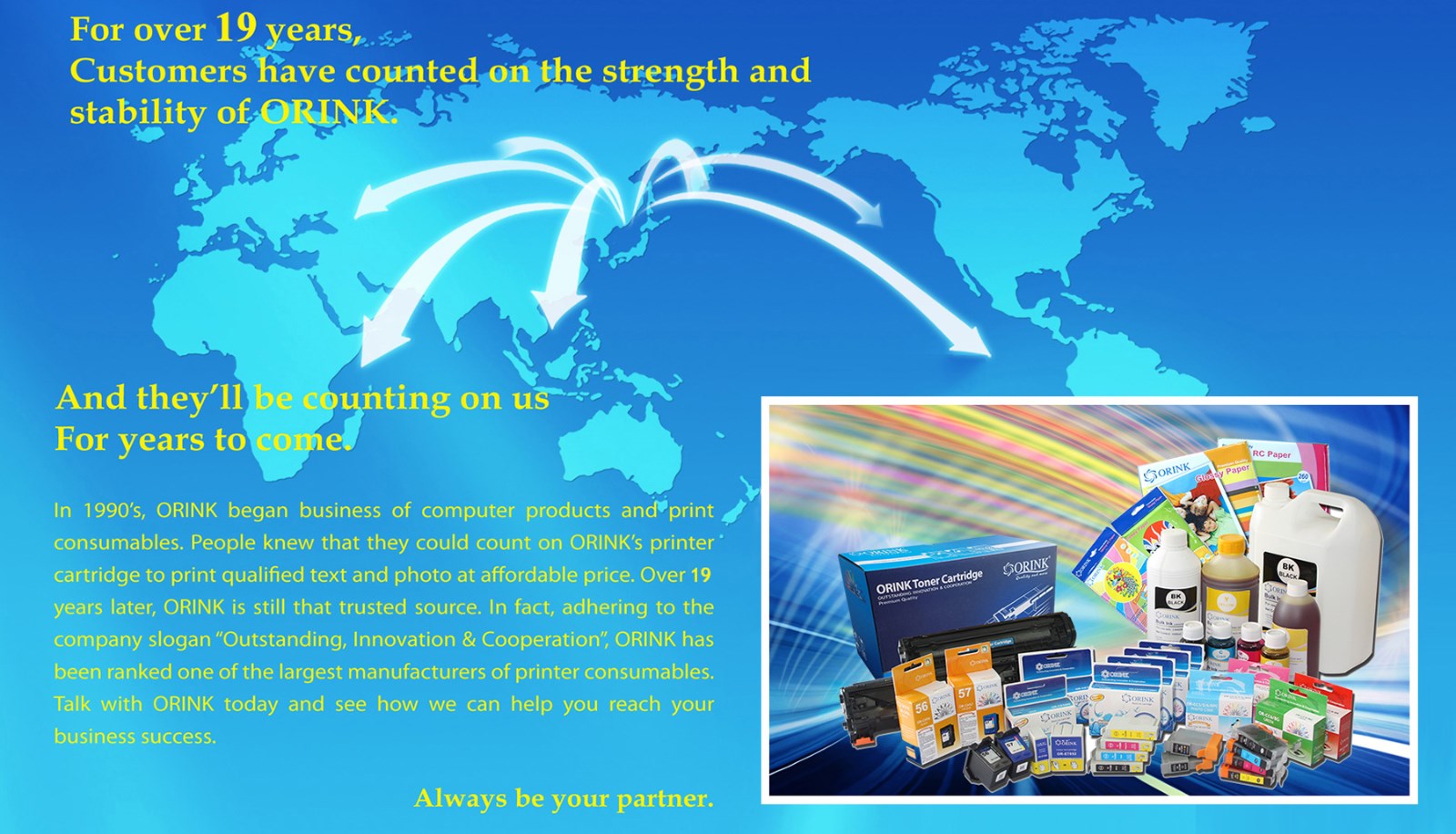 2022.06 ORINK launched automatic production lines in both ink and toner factories.


2020.12 During the Convid-19 epidemic in 2020, ORINK overcame difficulties and made concerted efforts to successfully complete the shipment of 13.5 million toner cartridges.



2019.08 ORINK launched New-built toner cartridges complying with EU WEEE,REACH& RoSH regulations.


2017.07 ORINK expanded the toner plant in Zhuhai with 23,000sqm and the monthly capacity reached to 1 million pieces of toner cartridges.




2016.07 ORINK set up two new toner plants in Zhuhai, the monthly output of toner cartridges adds upto 1 million, which will further consolidate our leading position.



2015.07 Orink relocated and expanded the inkjet plant in Zhuahi with 10300square meters and the monthly capacity reaches to 9,000,000pcs ink cartridges.



2013.11 ORINK becomes the industry's leading manufacturers with monthly output upto 650,000pcs compatible toner cartridges and 8 million compatible ink cartridges.



2012.07 Celetrate the 10th anniversary of the establishment of ORINK INFOTECH INTERNATIONAL CO.,LTD

2011.07 The monthly capacity of compatible ink cartridge increased to 7 million pieces after ZRJJ moves into our industrial park.



2010.06 Rich Imaging,as ORINK professional laserjet plant,moves into our own industry park in Zhuhai with facility of 45,000 square meters and nearly 2000 staffs.



2009.07 ORINK new factory Standard Image moved into a new place with over 3000 square meters. This factory specializes in producing Remanufactured ink cartridges and Color toner cartridges.



2008.04 ORINK's ink cartridge factory ZRJJ achieves the production capability of 5 million pieces per month and monthly output over 4 million pieces, and has become one of the biggest ink cartridge manufactures in China.



2006.06 Standard Image Co., Ltd ,which is holding company of ORINK, was established in shanghai, mainly producing remanufactured cartridges. With the aim to offer "quality first and price favorable" products, Standard Image further upgraded the production and sales multiple system of ORINK products in the consumable market.



2006.05 ORINK established a plant in Shanghai, mainly producing replacement ink cartridges for HP series.



2003.03 ORINK Infotech International Co., Ltd. was registered in Hong Kong. The new manufacturing base and domestic marketing center are established.



2002.09 ORINK brand is created to cater for expansion in oversea market. And the company is devoted to promote for international reputation.



1998.07 The company enters printing consumables as international sales agent for domestic manufacturers. Shanghai Unicom becomes famous exporters of computer products in China.



1996.09 Shanghai Unicom Science & Technology is founded and the company begins export business of computer products and peripherals.